EzeScan PRO workstation is a professional production batch scanning and document image import tool capable of delivering high productivity gains for all M-Files users. Scan your documents using EzeScan's advanced batch scanning capabilities, import from a folder or direct from an email account.
Product Description
This cost-effective document scanning solution (no "per-page" scanning restrictions apply) is easy to use, comes standard with many image enhancement features, and numerous output image formats can be selected including TIF and text searchable PDF, PDF/A.
EzeScan PRO workstation supports a large range of scanner hardware including Multifunction Printers and Desktop Scanners. Optional data capture, automation, and Full integration into M-Files are available to further extend the functionality and productivity of your scanning workflow.
Cost of ownership
EzeScan's PRO workstation provides an "all-in-one" single integration point with M-Files that delivers the fastest most cost effective method available to capture and register both your hard copy and electronic business critical documents, free of any costly "per page" click charges.
EzeScan's native M-Files integration provides many advanced features including:
Browsing to M-Files Vaults to store documents
Auto filing using barcodes directly into M-Files
Email notification to end users with document ID link
Auto filing to folders by searching the M-Files description or by custom property
Auto select subfolder based on folder name
Apply or inherit permissions within M Files.
Upload document revisions
Ability to add a new value to an existing object type. eg: New customer/vendor
EzeScan PRO Functionality & Features
Scanning/Import Features
Scanning uses the industry standard TWAIN, WIA or optional ISIS scanner interface
Supports low, medium and high volume scanner
Supports Flatbed, ADF, Large format (AO, E-Size) scanners
Supports Simplex, Duplex, Manual Duplex scanning
Supports scan-enabled digital photocopiers via TWAIN, FTP, email or folder import
Easily append, insert, replace, delete or move scanned pages
Undo last X scanned pages
Scanner settings can be saved as job types for easy re-use
Import TIF, PDF, JPG, GIF, BMP from File, Folder (multiple levels deep), Email (POP3/IMAP) or FTP
Unlimited number of job workflows
Workflows can be set up on one machine, exported, then imported by other EzeScan stations easily
Scan & email directly from within EzeScan
Optional Barcode Recognition (BCR) module available
Image Enhancement Features
Auto Binarise
Delete Blank Pages
Deskew – one or all pages
Despeckle 1×1, 3×3
Crop/Erase Border
Rotate –90, +90, 180, Using OCR or BCR
Scale to Grey
Split images horizontally or vertically
Undo last enhancement/change
Annotation Features
Create TIF Annotations, Wang Image Compatible
TIF Annotation Tools include Highlight, Freehand Pen, Line, Rectangle, Text, Stamp, Sticky Note
TIF Annotations Tools can be used for redaction to blackout or whiteout areas of the image
TIF Annotation Permanent Branding option
TIF Annotation layers are date & time stamped. Annotations can be viewed in date/time sequence
Print with/without TIF annotations
Shrink Image to < 100%, retaining page size
Expand Page size to > 100%, adding page border
Force page size to ISO paper size
Add Advanced Audit Stamp to First Page/Every Page
Add Advanced Audit Stamp A-Z grid to LHS or RHS of the nominated page
Add Advanced Audit Customised Text to the top or bottom of the nominated page
Left, Center or Right Justify the customised Audit Stamp text
Add Watermark (PDF Only)
QA Features
Option to force QA before images can be profiled
Option to add an audit stamp to the first page of each scanned document.
Output Features
Output as Group 4 TIF
Other image output formats include BMP, GIF, JPG, JP2 and PNG
Output as Image only PDF
Output as Text Searchable PDF
Output to PDF/A
Text only output formats includes RTF and TXT
MS Office output formats include DOC, DOCX, XLS and XLSX
Output to directory
Output to email
Output to FTP
Documents can include either B&W, Colour or both B&W and Colour pages
Colour TIF & PDF uses JPG compression within the TIF to significantly reduce image size
PDF conversion available with B&W and Colour images
Ease of Use
Function key driven (F2- F12)
Combined Thumbnail/Page Viewer
Navigate through pages using either the Page Up & Page Down keys, Up & Down arrows, Go to page X, or the Home & End keys
Navigate within the image using zoom in or zoom out magnifying glasses, fit to width, fit to window, or zoom to % size (also via shortcut keys)
Undo and Undo All to remove last alteration
Shortcut keys listing available from the help menu for easy user training
Batch Scanning
With or without separator pages
Uses either simple separator pages, fixed document page count with manual override, or optional (Barcode) BCR module detection to identify document start/finish within batch
Supports Auto Naming/profiling
Utilises all Image Enhancement features
Desktop Scanning
Document scanning 1 document at a time, no separators used
Supports Auto Naming
Supports Auto Profiling
Utilises all Image Enhancement features (See above)
EzeScan PRO Workstation Optional Modules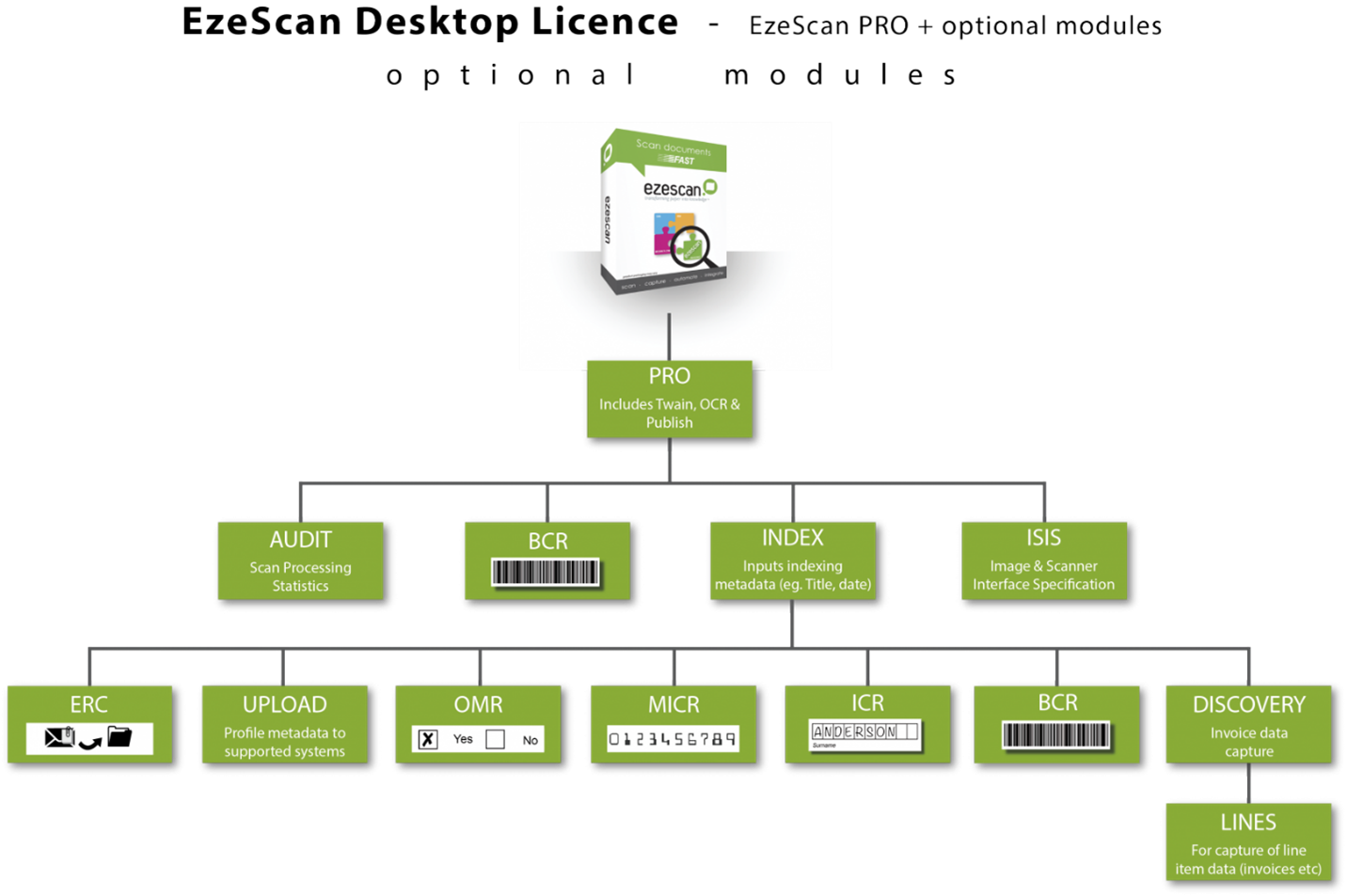 Product Details
M-Files Compatibility: Compatible with both on premise and cloud versions
Licensing Model: Named Licensing, Con-current Licensing, Annual Subscription also available
Target Market: Corporate, Education, Construction, Government, Legal, Accountancy,
Product URL: https://www.ezescan.com.au/products/ezescan-pro
Documentation and Additional Information
| | |
| --- | --- |
| Download Link | Description |
Licensing and Downloads
| | |
| --- | --- |
| Licence Type | Purchase Required - Contact Publisher for Licensing Information |
| | | |
| --- | --- | --- |
| Version | Description | M-Files Version Support |
Contact Information
Sales and More Information
Technical Support
Product Specifications
Supported Environments

Customer Environment:

M-Files Standard Cloud:

M-Files Isolated Cloud:

 Yes

 Yes

 Yes

Supported Languages

English

Regional Availability

Global
Screenshots